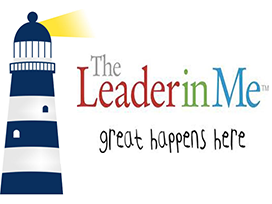 The Leader in Me is Franklin Covey's whole school transformation process. It teaches 21st century leadership and life skills to students and creates a culture of student empowerment based on the idea that every child can be a leader.
The 7 Habits is a synthesis of universal, timeless principles of personal and interpersonal effectiveness, such as responsibility, vision, integrity, teamwork, collaboration and renewal, which are common to all people and cultures. The Leader in Me paradigm sees that every child is capable, every child is a leader. This paradigm changes everything.
Habit 1 – Be Proactive – exercising your freedom to choose self-awareness, imagination, conscience, or independent will. Proactivity is not an optimistic stance. Instead, proactivity means understanding the reality of a situation.
Habit 2 – Begin with the End in Mind – Everything is created twice. You first create something as a mental creation. Then, as a result, it becomes a physical creation. Beginning with the end in mind means approaching any role you have in life with your values and directions clear in your mind.
Habit 3 – Put First Things First – Habit 3 is the second creation–the physical realization of Habits 1 and 2. This habit requires time management, planning and putting our mission into action. Effective management involves putting first things first and doing what other people don't want to do. From Habits 1 and 2, you must have a burning "yes" inside you. This "yes" should allow you to say "no" to other things that don't align with your principles and goals.
Habit 4 – Think Win-Win – We try to exercise both courage and consideration as we seek mutual benefit. In most difficult situations, the problem is the system, not the people. By approaching those situations with the question of how we can change the system to make it work for all involved, many difficult problems can be resolved.
Habit 5 – Seek First to Understand, Then to Be Understood – If you want to interact effectively with people and influence them, you must first understand them. This is a skill that requires sensitivity to others, empathy, and leads to great understanding and improved relationships.
Habit 6 – Synergize – Synergy is a shared peak experience. Start to live at a higher level by putting the first five habits into practice and adding authenticity and openness. To operate at this level consistently, you can become more effective than most people can dream of being.
Habit 7 – Sharpen the Saw – We renew ourselves each day: Physically, Emotionally, Mentally and Spiritually.