Cambridge classes are learner centred and do not revolve around what teacher teaches. Learners use their critical thinking to learn new skills and subject knowledge through activities, experiments and experiences. Teachers only provide opportunities and guidance to bring the best out of them.
Active learning focuses on how students learn, not just on what they learn. Students are encouraged to 'think hard', rather than passively receive information from the teacher.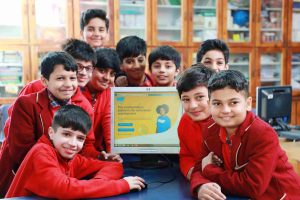 Mathletics
Mathletics, 3P Learning App is a comprehensive online mathematics learning tool. Many educational games to play and competitive learning at its finest. Live Mathematics Challenges tests learners' minds, math skills and reflexes. After completing challenges certificates to take home.
Self Defense
In this day and age, students need to learn to defend themselves against any unprecedented danger. Regular classes of self-defense in Cambridge ensures that our students are developed to handle dangerous situations.
Mindfulness
Mindfulness is an effective tool for settling learners at the beginning of any classroom activity, and is a practice that strengthens and develops important cognitive skills that include attention, concentration and memory. It also facilitates the development of important social and emotional skills through each developmental stage of a learner's life. JDIHS aims to incorporate mindfulness in three ways:
Mindfulness as a Practice to Focus upon Here and Now
Mindfulness as a Program to Foster Cognitive Readiness
Mindfulness as a Program to Promote Wellbeing
Objectives:
The objective of integrating mindfulness activities into classroom is to:
enable learners to live in present moment and improve attention and concentration
enable them to focus on learning and take in new information without being distracted
enhance working memory, cognitive flexibility, reasoning, planning, goal directed behaviour and self-regulation
reduce potential obstacles standing in the way of their learning such as emotional reactivity and behavioural issues